Movers, Shakers & Impact Makers: Global Banks Team Up to Tackle Climate Risk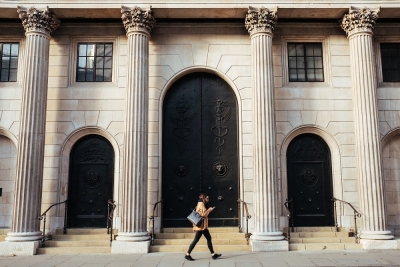 Featured this week: Maha Akkari, Cisco; Hortensia Dean and Demetrius Holt, FedEx; Desert Financial Credit Union; Eversheds Sutherland; MassMutual; Moody's; SMBC; Western Digital; Bank of America, Fifth Third Bank, KeyBank, MUFG Union Bank, Royal Bank of Canada, U.S. Bank, Wells Fargo; Merck; Morgan Stanley; Trane Technologies; Yum! Brands; Ally Financial; Natixis; Kennebunk Savings; Mitsubishi UFJ Financial Group
The member community convened by Boston College Center for Corporate Citizenship is one of a kind. The 500+ companies we serve each year around the globe are leaders in environmental, social, and governance action, and the thousands of individuals who make up this network are some of the best in the field!
Members: Would you like your company to be featured in future posts? Fill out this Member News Form.
Here is how our members have been working to build better business and a better world:
Spotlight on You
Maha Akkari, network consultant engineer at Cisco, took to the company's Corporate Social Responsibility blog to reflect on the mental health battles people face in her country of Lebanon—especially following the massive Beirut port explosion in 2020—and how her company is working to alleviate those stresses on employees. "The mental health battle in Lebanon is real," says Akkari. "Cisco has made it a priority to not only end the taboo against talking about mental health, but also encourage people to ask for help. By decreasing the stigma and broadening the resources Cisco offers to employees, we hope to encourage people to get the help they need and change the conversation about mental health across our industry."
Hortensia Dean and Demetrius Holt, were recognized as Valued Volunteers by their employer FedEx for their community service contributions. Dean and Holt were featured by the company for their service as lead volunteer coordinators for the National Civil Rights Museum. Together they manage hundreds of FedEx employees for MLK day and handle other events at the museum. FedEx is sponsoring free admission to the National Civil Rights Museum on January 17, 2022.
Job Postings
Apollo Global Management
New York, NY
Impact Measuring & Monitoring, Associate
Desert Financial Credit Union
Phoenix, AZ
Community Development & Foundation Coordinator
Eversheds Sutherland
Atlanta, GA
Responsible Business Specialist
MassMutual
Boston, MA
Sustainability Lead

Merck
Kenilworth, NJ
Director, ESG Strategy & Engagement

Moody's
Various Locations
Manager, Volunteer Programs
Assistant Vice President - Corporate Social Responsibility, Europe, Middle East, and Africa

Northrop Grumman
Various U.S. Locations
Grants Administrator

SMBC
New York, NY
ESG Reporting & Disclosure Manager, Vice President
The Risk Management Association announced that 19 top U.S. and Canadian banks have formed the RMA Climate Risk Consortium, which will develop standards for banks to integrate climate risk management throughout their operations, preparing the industry to help economies transition to a low-carbon future. Boston College Center for Corporate Citizenship members featured prominently on the list: Bank of America, Fifth Third Bank, KeyBank, MUFG Union Bank, Royal Bank of Canada, U.S. Bank, and Wells Fargo
Merck announced an additional $150 million commitment through Merck for Mothers to further advance the initiative's mission of helping create a world where no woman has to die giving life. This investment builds on a $500 million commitment made in 2011 and underscores the company's legacy of catalyzing sustainable solutions that improve health equity and maternal health outcomes worldwide. To date, programs supported by Merck for Mothers promoting safe, high-quality, respectful care have reached 13.1 million women.

Morgan Stanley has launched the Institute for Inclusion's Equity in Education and Career Consortium. Through collaboration with partner organizations, this initiative will support high school and college students so they can achieve stronger career and financial outcomes. Funded by an initial commitment of $20 million, this initiative will help address systemic inequities in education and career outcomes for young adults from low-to-moderate income backgrounds with a focus on ethnically diverse students.
Trane Technologies' transport refrigeration brand Thermo King® has announced it will be first in the industry to transition to a lower global warming potential (GWP) refrigerant as standard in its truck and trailer units. This will reduce the carbon footprint of refrigerants used by its customers' long-haul, middle-mile and last-mile delivery fleets by nearly 50% or approximately 650,000 metric tons of CO2e annually, equivalent to the emissions of 143,000 passenger vehicles per year. While customers previously had the option to drop in the lower global warming potential refrigerant, Thermo King units will now come standard with the industry's most sustainable refrigerant available in the market today.
Yum! Brands subsidiary Kentucky Fried Chicken and Beyond Meat are kicking off the new year with a Kentucky Fried Miracle as the highly-anticipated plant-based Beyond Fried Chicken makes its nationwide debut. Beginning Monday, January 10, KFC restaurants across the U.S. will offer Beyond Fried Chicken for a limited time, while supplies last. KFC was the first national U.S. fast-food chain to introduce plant-based chicken when it tested its first iteration of Beyond Fried Chicken in August 2019 as a part of a limited-run test in Atlanta.
Members from Ally Financial, Natixis, and more registered this week to attend the International Corporate Citizenship Conference 2022. Learn more about joining them to learn and network with hundreds of professionals in the CSR field: Register today.
This week, we proudly welcome new members Kennebunk Savings and Mitsubishi UFJ Financial Group! Learn more about joining them, along with more than 10,000 professionals in the Boston College Center for Corporate Citizenship member community: Member Benefits.