Grants support training the skilled workforce of tomorrow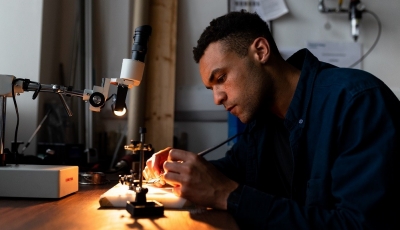 Featured this week: Lee Ballin, Kristen Sullivan, Christine Robinson, Jenny Lynch, and Tricia Montague, Deloitte; Crowe; Edelman; Erie Insurance; Morgan Stanley; Nike; Philip Morris International; Prudential; Regeneron; Vanguard; Benjamin W. Schall, Avalon Bay; Revathi Advaithi, Flex; Bill Staples, New Relic; Barclay E. Berdan, Texas Health Resources; Chikkanna Gowda and Rangaraj Mageswaran, Baker Hughes; CenterPoint Energy; Dominion Energy; DTE Energy; KeyBank; TELUS; Farm Credit Mid-America
The member community convened by the Boston College Center for Corporate Citizenship is one of a kind. The 500+ companies we serve each year around the globe are leaders in environmental, social, and governance action, and the thousands of individuals who make up this network are some of the best in the field!
Members: Would you like your company to be featured in future posts? Fill out this Member News Form.
Here is how our members have been working to build better business and a better world:
Spotlight on You
Lee Ballin has joined Deloitte as managing director, ESG and sustainability services. "Super excited to join Kristen Sullivan, Christine Robinson, Jenny Lynch, Tricia Montague, and their amazing team," said Ballin on LinkedIn. "Thanks to everyone that reached out wishing me success in the next chapter of my career."
Member Job Postings
Boston College Center for Corporate Citizenship
Chestnut Hill, MA
Director, Executive Education & Advisory Products
Assistant Director, Corporate Sponsorships
Senior Writer/Production Manager
Crowe
Various Locations
ESG Internal Audit Manager
Edelman
Chicago, IL
SAE, Corporate Social Responsibility Specialist
Erie Insurance
Erie, PA
Director, Diversity, Equity & Inclusion
Morgan Stanley
New York, NY
Community Affairs Program Coordinator
Nike (JUST ADDED!)
Beaverton, OR
Assistant General Counsel – Corporate Governance & Securities
Philip Morris International
Stamford, CT
Community Relations Specialist
Regeneron
Tarrytown, NY
Associate Director, Corporate Responsibility - ESG Reporting and Engagement
Vanguard
Malvern, PA / hybrid
Program Officer, Community Stewardship
Member Companies in the News.
Congratulations to the member companies that released ESG reports! Please join us in celebrating their milestones:
· Avalon Bay released its 2021 Environmental, Social, and Governance Report, in which the company highlights how it has strived to achieve its purpose of creating a better way to live. 2021 marked a full year since Avalon Bay partnered with the National Urban League (NUL); the company has thus far donated a total of $150,000 toward the NUL's work and established regional liaisons to lead the partnership. The company also made important advances toward its long-term ESG goals as well, reducing its Scope 1 & 2 emissions by 31.7% and its Scope 3 emissions by 23.4%. "We understand and are driven by a strong belief that our actions, both big and small, contribute to creating a better way to live—for all people, the places where we live and work and the planet at large," said Avalon Bay CEO and President Benjamin W. Schall.
· Flex released its 2022 sustainability report, which summarizes the company's global sustainability activities, performance and results from calendar year 2021. In tandem with the report's release, the company announced a commitment to reach net zero greenhouse gas (GHG) emissions by 2040, doubling down on climate action efforts. "Now, more than ever, companies across every industry and sector must take purposeful steps to address the climate crisis and champion a more sustainable way of working," said Revathi Advaithi, chief executive officer at Flex. "Flex is dedicated to doing its part to accelerate climate action and helping our value chain partners do the same."
· New Relic is thrilled to share the launch of its first Environmental, Social, and Governance (ESG) Impact Report. This report represents the culmination of work that several departments have been building toward over the years and is focused on four key material topics: New Relic employees, data security and trust, equitable access to technology, and environmental impact. "As a leader in observability, New Relic is proud to deepen our commitment to ESG so that we can continue to tackle the challenges and seize the opportunities facing our industry," said New Relic CEO Bill Staples. "We aim to build upon our commitment to ESG with even greater transparency and accountability and to inspire our peers across the industry to do the same."
· Texas Health Resources released its Annual Social Purpose Report, which spotlights the outcomes of the company's social responsibility efforts. Over the past year, the company has offered $927 million in charity care and community benefit programs/services and administered more than 314,000 COVID-19 vaccine doses. To address the workforce shortages and increase the number of physicians in North Texas, it also launched new graduate medical education programs. "These are challenging yet exciting times," said Texas Health CEO Barclay E. Berdan. "We have proven that we can achieve amazing things when working with, learning from and supporting one another."
We are also pleased to share the following CSR news from the BCCCC member network:
Baker Hughes employees in India launched a soil and water conservation plan to help farmers and the local community combat desertification. In the village of Chellagurki, drought and soil erosion are harming agriculture, which is the backbone of the community. As a result, Chellagurki residents have had to contend with the vicious cycles of debt, poverty, and hunger, which drive poor outcomes in education, income, and life expectancy. The company highlighted the efforts of lead technologist Chikkanna Gowda and lead engineer Rangaraj Mageswaran, who introduced the idea of creating infrastructure for watershed technology. Baker Hughes partnered with the NGO Myrada to begin rejuvenating 1,000 hectares of land and reducing vulnerability to climate risks.
CenterPoint Energy Foundation awarded the National Math and Science Initiative (NMSI) and the University of Houston with a $100,000 grant to establish the CenterPoint Energy New Teacher Academy. The academy is designed to give teachers in-person professional development in STEM education and networking opportunities with second-year and master teachers over the summer. NMSI's Laying the Foundation program will provide the pedagogical and STEM content support, which will empower teachers to build and maintain subject matter expertise, enhance their leadership skills, and propel students' confidence, creativity, and problem-solving skills.
Dominion Energy is partnering with Chesapeake Regional Hospital to support veterans in crisis, awarding a $150,000 to the Chesapeake Regional Healthcare Foundation. The hospital has been a crucial resource for the 27,000 veterans in the Chesapeake area and the community at large. The hospital is planning to expand and construct a comprehensive psychiatric emergency room, 20 psychiatric beds, and outpatient mental health services.
DTE Energy Foundation awarded $1.25 million to four Michigan-based organizations to bolster their efforts to diversify workforces and support employment programs. The awards are comprised of $500,000 for the Michigan Hispanic Collaborative, which combats the high rate of poverty in Hispanic communities of Detroit and supports college-bound students; $450,000 for the Cranbrook Institute of Science, which will put the grant towards developing climate change curriculum for 200 public elementary and middle schools in the area; $200,000 for FIRST, which is a nonprofit dedicated to fostering STEM education through funding robotics competition teams; and $100,000 to Inforum in STEM, which empowers women in STEM with mentoring, career exploration, and apprenticeship opportunities.
KeyBank announced that it will partner with the YMCA of White Plains & Central Westchester in New York to provide critical digital skills training and resources to low-income women in YWCA's Women's Residence. The KeyBank Foundation will provide a $200,000 grant over the course of two years to help YWCA scale its YW Strive program to reach at least 100 women, with an emphasis on empowering women of color and low-income women. The program's chief goal is to help women break the cycle of poverty by connecting them with the skills, training, and resources needed to enter the workforce.
TELUS announced that it will invest more than $10,000 in the Queen Charlotte and Skidegate areas, supporting the development of broadband and cellular services as part of its indigenous reconciliation commitment. Residents of these communities will have access to high-speed internet up to 120 megabits per second, and for the first time, they can also use high-speed wireless voice and internet services. "Our longstanding investments on Haida Gwaii are supporting critical, transformational change in respect to enabling online healthcare, education, and the ability to work from home or operate a local business and compete globally," said Tony Geheran, chief operations officer at TELUS.
Members on the Move
A corporate citizenship professional from Crowe LLP just registered to attend the Summit! This week-long learning experience is designed to help busy professionals complete a large portion of their Certificate in Corporate Citizenship Practice all at once, with plenty of time to network with peers. Learn more about joining them at one of two upcoming Summit events!
Members from Farm Credit Mid-America and more have been asking and answering questions in the newly redesigned BCCCC Online Member Community! Members can jump in right now on the recent conversation: Grants to C Corps.
Learn more about joining these members, along with more than 500 companies we serve each year in the Boston College Center for Corporate Citizenship member community: Member Benefits.