Accelerated Certificate Summit: Spring 2021
February 1 - 5, 2021
The Boston College Center for Corporate Citizenship is happy to offer our most popular certificate—The Certificate in Corporate Citizenship Practice—in an Accelerated Summit that combines the best aspects of our in-person courses with the flexibility of online options.
This dynamic, week-long event is a hybrid-learning experience that enables you to earn your Certificate quickly and cost-effectively by diving deep into CSR best practices and connecting core skills with applicable electives. The Summit offers plentiful opportunities to network with colleagues as well.
---
Social Distancing: The Spring Summit will be an in-person event at the Rancho Bernardo Inn San Diego. As a low-rise resort, rooms are spaced out in separate wings instead of being concentrated in towers, and most are accessible through open-air entries. Guests are required to practice social distancing and wear masks.
ATTEND THE IN-PERSON SUMMIT
Choose one course per day at the week-long program in Boston. Mix and match core courses required to complete your Certificate and/or the elective courses that interest you the most
COMPLETE ONLINE COURSEWORK
For each course, you will complete online modules supplementing the shorter in-person program, which you can begin and finish at your convenience—before or after the in-person Summit.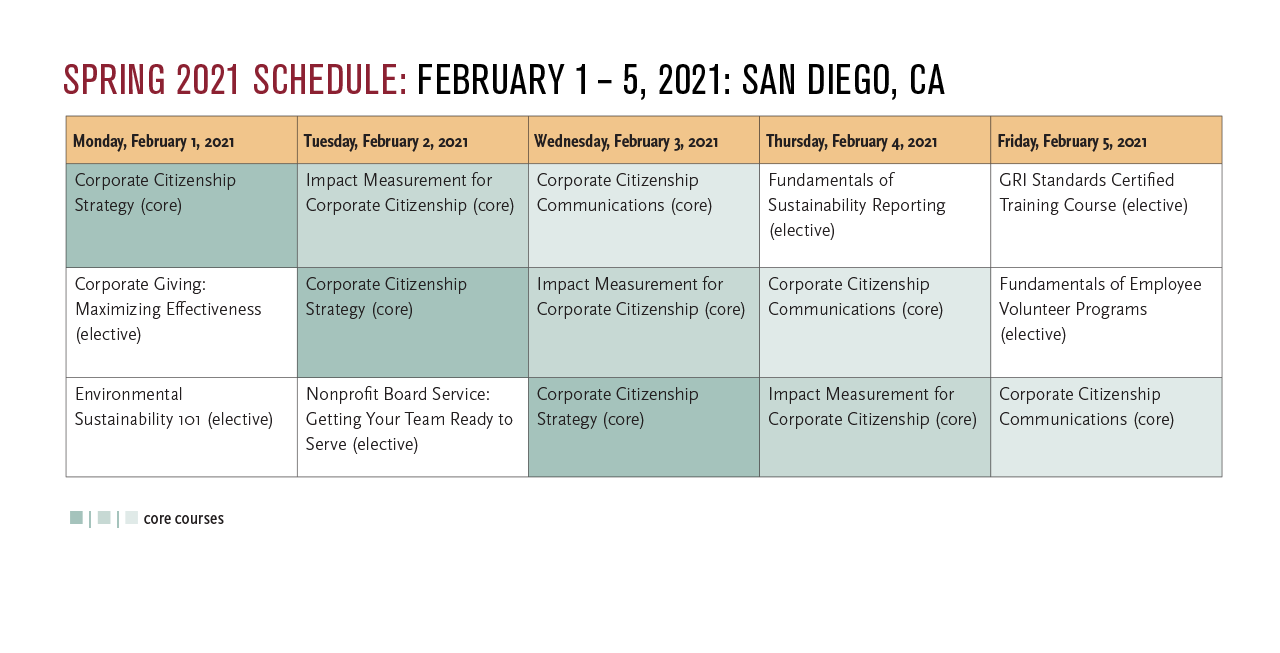 BEST VALUE OPTION: Bundle your registration for the lowest-cost discount on a future Corporate Citizenship Conference—reunite with your cohort and complete your training!
A note about pricing:
The traditional in-person path for those seeking a Certificate in Corporate Citizenship Practice—who want to do all of the work during in-person classes, one class at a time—costs an average of $25,000 including travel and hotel expenses, usually takes place over 15 days in 5 different locations, and often takes years to complete.
The Accelerated Certificate Summit fast-tracks this experience to 5 class days in one location with supplemental online material, slashes travel costs, and allows you obtain your Certificate in Corporate Citizenship Practice in A FRACTION of the time at HALF the cost.