For this company, corporate responsibility is an investment in the future workforce
At the Boston College Center for Corporate Citizenship's International Corporate Citizenship Conference, CSR leaders from around the world gather to share insights, tools, and tactics. Below, we share a story from last year's conference, appearing originally in Issue 20 of The Corporate Citizen magazine, which details how State Street—the event's 2017 convening sponsor—is working with five partners to advance job readiness today while strengthening its future workforce.
This year, our 2018 convening sponsor Travelers will share the benefits of a long-term approach. Other speakers will include award-winning writer and speaker Terri Trespicio, as well as experts from EY, UPS, and more. Now is the best time to register, because for a limited time you SAVE $200 on registration!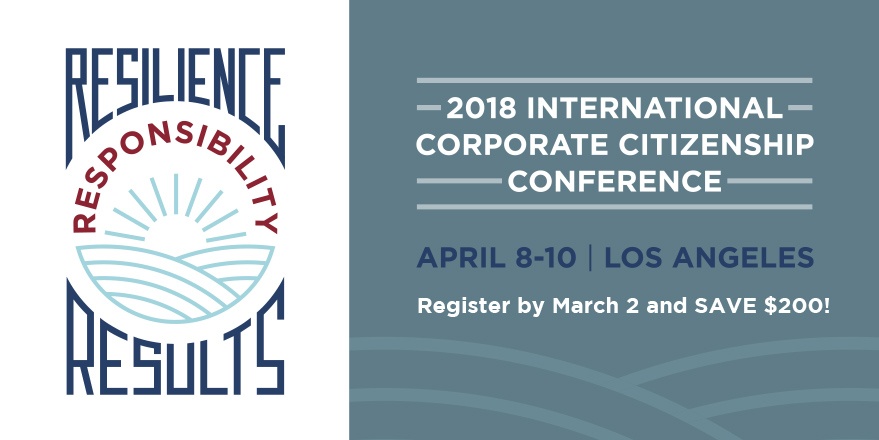 For many companies, an investment in youth is an investment in their future talent pipeline. In June 2015, State Street, a world-leading financial services company, launched its Boston WINs (Workforce Investment Network) program—which aims to forge a successful pathway from high school to career for Boston youth. Together with five partner organizations—The Boston Private Industry Council (PIC), Bottom Line, College Advising Corps, uAspire, and Year Up—State Street is advancing job readiness today to strengthen Boston's future workforce.
The program is funded by a four-year, $20 million grant from State Street Foundation, which is projected to increase the number of youths the partner organizations can serve by 60 percent. In addition to the financial commitment, the company is engaging its employees to support its WINs partners through volunteer and matching gift efforts, and has pledged to hire 1,000 of the WINs scholars.
"The goal of the Boston WINs initiative is to provide career opportunities for local youth," said Michael Scannell, senior vice president of corporate citizenship and head of the State Street Foundation. "As an employer, we are in a tremendous position to provide a solution to workforce development. Boston WINs is about bringing a group of nonprofits together, along with State Street resources, to make an impact beyond what we could each accomplish individually."
During the 2017 International Corporate Citizenship Conference, Scannell, along with State Street's Chief Human Resources and Corporate Citizenship Officer Kathy Horgan, discussed the program with partners Nicole F. Hurd, Founder & CEO of College Advising Corps; Bob Giannino, CEO of uAspire; J. Keith Motley, (former) Chancellor of the University of Massachusetts Boston; and Tommy Chang, Superintendent of Boston Public Schools. What follows is a condensed version of their conversation.
The Power of a Collaborative Approach
Horgan: State Street has been headquartered in Boston for all of its 225 years. As you can imagine, in that amount of time we've been through a lot of transformations. Our business model has evolved and we've adapted to changing markets, innovated by putting the latest technology to work for our clients, and grown and expanded around the world.
One thing that has remained constant for us is that we've always been committed to keeping Boston strong, and corporate responsibility has always been a fundamental part of our values. The way that we approach corporate citizenship, however, has evolved along with our business. Our Boston WINs program is a more collaborative approach based on strategic partnerships between the State Street Foundation, five high performing nonprofits, and the Boston Public School system.
Scannell: When we created WINs, we committed to putting the full weight of State Street behind the effort. It was just as much about putting our employee resources behind the program as it was financial resources.
To be effective, we've had to bring the expertise of the State Street Foundation and various human resources teams to bear on the issue of Boston student achievement, and provide an education to employees on the current situation surrounding Boston youth so that they could engage in the mission of the program.
This level of collaboration extends to our nonprofit partners. For us, it's not just about giving these organizations an influx of cash. We bring our partner organizations together quarterly, and we have a commitment with the executive directors that is exceptional. They are in the room with us making decisions as we strategize. We've also brought in a third-party facilitator, which allows State Street to be in the discussions, challenging the organizations and enabling them to challenge us as we really look at the work that we're trying to achieve with WINs.
Chang: In Boston, there are a large number of nonprofit partners who care about young people, which provides both an opportunity and a challenge. It can be overwhelming and counterproductive when all these groups are attempting to do the same thing, but when they work together, we're able to solve problems. To steal from Atul Gawande (surgeon, public health researcher, and best-selling author of Being Mortal), we need to act more like pit crews and less like cowboys. The WINs program ensures that there are liaisons helping to coordinate services at every single one of the 20 high schools served. Also, the partners and the schools are meeting regularly. This coordinated action only happens when the structures are built at all levels to act like pit crews. That's really important.
Together, we're working to create proof points. We are inspired to do more when we see there is a proof of concept. WINs is proving that private and public organizations can work together to make sure that we are doing right by kids. Our mission is lifting young people out of poverty, and we aim not to just graduate them from high school. That's not enough. Eighty percent of new jobs being created require some sort of post-secondary degree. We know our job is not to just help them get that high school diploma. It's to get them into and through college. Get them into a career, so six years after high school graduation, they're participating in the middle class.
Measuring for Data-Driven Results
Hurd: As WINs partners, we all work to make sure that there's coordinated action that really advances students and propels them forward. We are so bound to each other. We're accountable to each other, and State Street holds us to that level of accountability.
I'm a firm believer in what gets measured, gets done. There's a misconception that nonprofits don't think about real business, but that's far from the truth. At College Advising Corps, we use the data from our technology platform GRACE (which stands for Gaining Results And Creating Equity) to move students towards opportunity. GRACE is a system that's completely based on KPI's (key performance indicators). With it, you can actually see things like how many FAFSA forms have been completed, whether students have completed assignments, etc. We share this information with our partners to ensure that our students are getting the support they need from all of us.
So, we've always been interested in business processes and results, but working with State Street has upped our game. They are giving us some great resources to improve how we conduct HR and think about our systems. Their support is letting us shine, and demonstrating that nonprofits are serious about data, are serious about impact, and are serious about really showing a return on investment.
Giannino: Like State Street, uAspire is headquartered in Boston, and traditionally, our model has been to do great things here and then export those ideas to the communities that we touch nationwide. Through WINs, we've been able to go to scale much faster in Boston and reach more students, and work with those students more deeply and more thoughtfully than we ever have been before.
The State Street investment has not only led to smarter service with young people with our nonprofit partners here, but is also giving us a pathway to how we can crack the college affordability challenge nationwide. We've been able to evaluate our impact here in Boston in ways that have not been the case in the past.
We've been able to innovate. For example, now we do a lot of youth counseling using text messaging. It's the mode of communication most favored by young people today, and we've been able to see statistically significant gains using that technology. We've been able to integrate it into our work here in such a way that has created a new mode of serving young people. Now, we can take it to other parts of the country.
Long-term Investment Delivering Business and Social Value
Scannell: At State Street, WINs is not a corporate citizenship program. It's not an HR program. It's a business program, and we support it through strategic governance, structure, and employee engagement. We leverage institutional resources to help partner organizations build capacity through new manager training or lean training, enabling them to build efficiency into their organizations.
We also involve employees in different areas to work with our nonprofits, specifically through strategic mentoring. That may mean resume writing or mock interviews for some of the students that we're working directly with, but it also involves demonstrating a clear career path within the financial services industry. These mentoring relationships are beneficial to our existing employees as well as the students—who, we hope, will become State Street employees. We're enhancing our own intern pipeline programs, and have made a firm commitment to hire 1,000 individuals that have been served by one of these organizations.
Motley: We're so grateful to State Street for making an investment, but then going beyond that. All of the partners work together in the community to help our students understand that it begins with school, but it ends with what may be opportunity at State Street. As they go through the WINs program, we talk with them about how to be persistent. We show them what it means to be not only good citizens, but also good contributors. They go on to become people that stay in Boston—that strengthen Boston.
There's also a terrific support system set up inside of State Street for those who are employed there. There is a robust mentorship program that provides opportunities for those who are trying to navigate the system, which is helpful for everyone but is especially important for those of different cultural backgrounds. Because that support is there, entering corporate America isn't as challenging.
Horgan: As we project what we're going to need from a talent perspective, we know that the type of work that we're doing at State Street is rapidly evolving. The entry-level jobs that will be ready two years from now are different than what they are today. So WINs isn't only great for the Boston community, it is also a very proactive way for us to help make sure that we've got a talent pipeline that is prepared and skilled, and has the experience for these rapidly changing jobs.
This mindset is fundamental to our overall corporate responsibility strategy. At State Street, we believe that being a responsible corporate citizen is essential to the long-term success of our company, since the strength of our business is directly tied to the wellbeing of the communities in which we operate around the world. Our Foundation focuses its charitable giving on education and workforce development because we know that providing people with the knowledge and skills they need to build careers is essential to keeping our economy and our communities strong.
Join us in Los Angeles on April 8-10 for the 2018 International Corporate Citizenship Conference! Register by Mar 2 and SAVE $200: