Kilpatrick Townsend & Stockton LLP demonstrates how giving back can be part of corporate culture

Research has found that professionals who are required to track billable hours are often less willing to volunteer. The pressures of meeting certain quotas can deter professional services firms from taking the time to give back to the community. Quite the opposite trend can be seen at Kilpatrick Townsend & Stockton LLP, however, an international law firm that focuses on intellectual property; corporate, finance, and real estate; and litigation. Whitney Deal, Director, Corporate Citizenship, attributes this trend to the culture of giving back which has been ingrained in the firm's 153 year-old foundation.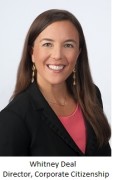 Partners, associates, and professional staff all have the opportunity to engage in their communities through the firm's signature corporate citizenship platform, IMPACT. Launched in 2004, IMPACT is the formal expansion of a full-time pro bono program begun in 2001 by the firm's first pro bono partner, Debbie Segal, who recently retired. To demonstrate its commitment to pro bono, attorneys at the firm are required to complete 30 hours of pro bono work every year and receive up to 50 hours of credit towards their billable work as an added incentive to take on projects for worthy causes. With the expansion of IMPACT beyond pro bono, all aspects of corporate citizenship including pro bono work are now incorporated into the annual review process at all levels of the firm. These details demonstrate the value Kilpatrick Townsend places on giving back.
After joining Kilpatrick Townsend in a human resources role in 1999, Deal took advantage of the firm's close corporate ties in Atlanta. She became the firm's representative in the Corporate Volunteer Council of Atlanta and learned about emerging trends in corporate citizenship. The employee volunteer program was established in 2004 with a one-year trial period. The trial was a success and in the ten-plus years since, IMPACT has become a branded corporate citizenship program that encompasses:
pro bono legal services
traditional volunteerism
diversity and inclusion
sustainability
philanthropy
community leadership (nonprofit board placement)
Although unique in the legal industry, IMPACT was a natural expansion of the pro bono work that attorneys and paralegals perform, says Deal. It expanded the opportunity to give back to everyone in the office, including staff and administration. In the wake of recent mergers, IMPACT has also become a mechanism for bringing new and existing attorneys and staff together, unwavering in the midst of change.
Where possible, Deal tries to make connections between the different pieces of CSR at Kilpatrick Townsend. "When we can, we try to tie a pro bono client to someone serving on the board of the nonprofit and should they need volunteers, we do our best to add some from our employee base," Deal shares. Creating these linkages between its corporate citizenship impacts only increases the firm's ability to make a real difference in the community. There are also increasing opportunities to partner with clients on pro bono and other service projects. According to Deal, Kilpatrick Townsend "is able to respond in a variety of ways to community, client and firm needs" based primarily on the structure of its integrated platform.
Nearly every aspect of IMPACT has its own partner-led committee and the use of committees helps Deal overcome limits of her two-person team of staff who manage all of IMPACT day-to-day. Partner involvement also gives weight to the program itself. To assist in managing volunteerism, each office has formal volunteer councils comprised of attorneys and staff that organize volunteer activities at the local level. The firm has a dedicated website to promote projects and track volunteer hours, and both attorneys and paralegals enter their pro bono time using the same time-recording system they use for billable hours, making it easier for them to track and report hours.
Deal believes IMPACT facilitates participation of attorneys and professional staff in giving because of two key factors: ease and flexibility which are critical in a billable hours environment. Tamara Caldas, the firm's new pro bono partner, sends opportunities to attorneys, rather than having them conduct searches on their own. During orientation, she and Deal speak with new attorneys to learn about their previous volunteer work, pro bono work and interests. The goal is to find meaningful assignments about which attorneys are passionate so they will want to get involved.
Pro bono work is also a source of significant skill-building and networking. "These assignments give legal professionals the opportunity to build upon their skills in a real, substantive way," Deal says. For example, litigation associates could potentially get into a courtroom during their first year at the firm, which is almost unheard of in any other circumstance, she added. All pro bono assignments are supported by a partner and newly assigned attorneys are encouraged to reach out to other colleagues who have dealt with similar cases as an additional source of support. These informal networks help to build and embed the culture of service at the firm. Last year the firm performed nearly 30,000 hours of pro bono.
Deal believes it also is important to offer a range of volunteer activities from which attorneys and professional staff can choose based upon their interests, availability, and skillset. Kilpatrick Townsend offers volunteer projects that can be performed in the office and in small shifts throughout the day. Some of these activities include bike-builds, making toiletry kits, and painting murals for local hospitals. According to Deal, employees find these types of activities therapeutic because they are so different from what they normally do and they can also immediately see the results of their efforts. Conversely, the firm also offers volunteer opportunities that require a more substantial commitment as part of its firm-wide commitment to education. For example, employees can volunteer to serve as mentors to underserved youth or participate in the firm's long-standing reading program. Employees who serve as leaders of these projects gain experience managing budgets, resolving conflict and building relationships with community stakeholders.
Deal and her team make a strong effort to ensure that each activity is well-coordinated to encourage participation. Over time, she has learned that attorneys especially want to give time to projects that make a long-lasting difference even if it means it may take more time. Deal has found that "the people who tend to bill the most are typically also the most philanthropic and engage in other projects at the firm. Instead of assuming that no one has the time to give, firms need to create a variety of projects in which attorneys and professional staff can engage." The formula seems to be working, nearly 50% of the firm volunteered in 2013. "Firms should offer opportunities that develop skills and empower attorneys and staff to create and lead projects that inspire them to want to affect change."