21st Century Corporate Citizenship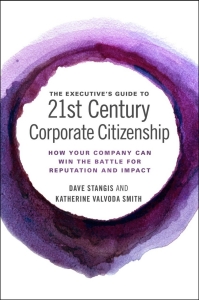 NOW AVAILABLE! The Executive's Guide to 21st Century Corporate Citizenship: How your Company Can Win the Battle for Reputation and Impact
by Dave Stangis and Katherine Valvoda Smith
This new book will provide all the information executives need to understand how corporate citizenship builds reputation, delivers value to the bottom line, and mobilizes an organization's employees and customers. It clearly and concisely guides senior and c-suite leaders through a step-by-step process for leveraging all the tools, trends, and assets at their disposal.
Now available
You can purchase the Executive's Guide to 21st Century Corporate Citizenship on Amazon.
Buy Now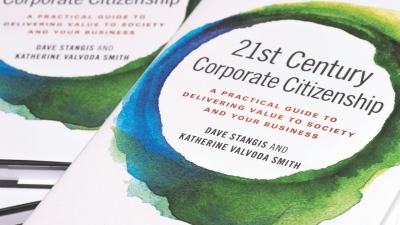 A Practical Guide to Delivering Value to Society and Your Business
by Dave Stangis and Katherine Valvoda Smith
For more than 30 years, the Boston College Center for Corporate Citizenship has worked to provide the resources and tools to help organizations make the most of their corporate citizenship programs by aligning environmental, social, and governance (ESG) objectives with business goals. Now, Dave Stangis, Vice President of Corporate Responsibility and Chief Sustainability Officer for the Campbell Soup Company, and the Center's Executive Director Katherine V. Smith, have teamed up to create a comprehensive blueprint for corporate citizenship success: 21st Century Corporate Citizenship.
All of the profits of 21st Century Corporate Citizenship will benefit the Boston College Center for Corporate Citizenship.
What are people saying about the book?
"Because of the magnitude of the challenges and opportunities we face as a society, corporate citizenship professionals must be excellent leaders and managers both. This book provides an excellent toolkit to support the important work of our next generation of corporate citizenship leaders—no matter which seats they occupy in their companies."
ANDY BOYNTON, Dean, Carroll School of Management, Boston College
"21st Century Corporate Citizenship allows its reader to move past the "why" to the "what" and "how." This guidance from leading lights with decades of experience immediately becomes a must-have reference for any respectable bookshelf of the C-suite, the midcareer practitioner, and the new adopter."
GRAHAM SINCLAIR, CEO, SinCo
"21st Century Corporate Citizenship pools the hard-won wisdom of two leading figures in the field, Dave Stangis of the Campbell Soup Company and Katherine Smith of Boston College's Center for Corporate Citizenship. As Campbell CEO Denise Morrison warns in her foreword, repurposing capitalism for tomorrow's environmental, social, and governance challenges will be difficult—but not impossible. If you are determined to walk the walk, not just talk the talk, read on!"
JOHN ELKINGTON, Co-Founder & Chairman, Volans Ventures, and author of 19 books, most recently The Breakthrough Challenge, with Jochen Zeitz.
"At Bose we're best known for our audio products. But our true passion? Discovering new and better solutions than anything that's come before. We "always dream of things that are better, and think of ways to reach those things." 21st Century Corporate Citizenship is a handbook that can help businesspeople understand how to dream and implement better and more sustainable futures for their companies and for us all."
BOB MARESCA, President & CEO, Bose Corporation
"21st Century Corporate Citizenship: The Practical Guide to Delivering Value to Society and Your Business exemplifies the essential truth that aligning the interest of society with a business's bottom line has never been more applicable or beneficial than in the 21st century corporate landscape. This book is a must-read for both current professionals seeking to make more of an impact, as well as for students designing their corporate career path."
LIZ MAW, CEO, Net Impact
"At Suffolk, we are always challenging the norm and pushing the boundaries of what is possible. To continuously innovate and service others is a pledge we make to our clients, partners, communities and each other. 21st Century Corporate Citizenship and Suffolk share the same values and commitment to excellence, which is why we are such strong supporters of this book. 21st Century Corporate Citizenship is a tremendous resource for individuals who work in the environmental and social investment field and who are actively pursuing excellence and innovation in everything they do."
JOHN FISH, Chairman & CEO, Suffolk Construction
"21st century investors are seeking sustainability leaders to realize stronger, more resilient portfolios that can deliver lower future risk and potentially higher financial returns. Stangis and Smith's 21st Century Corporate Citizenship is an essential how-to guide for Boards, chief executives, and managers to learn how to embed this leadership for shareholders and stakeholders, and for chief sustainability officers to build and implement comprehensive strategies for success in concert with people, planet, and profit goals."
R. PAUL HERMAN, Founder & CEO, HIP (Human Impact + Profit) Investor Ratings and Portfolios
"This book is important because it offers a step-by-step approach to thinking beyond the quarter to nurture the long-term health of the company, its suppliers, and its customers. It helps the corporate citizenship manager consider all the operation's dimensions, methodically assess the operating environment, and develop objectives and a plan to improve both the business and the world."
DENISE MORRISON, CEO, Campbell Soup Company